The History Hut
The History Hut is one of two remaining nissen huts used by the Gloucester Regiment in WW2. There are drawings by Stanley Lewis, a war artist, depicting the soldiers and their life while stationed in the huts.
On the brow of Hext Hill overlooking Low Ham (TA10 9DR) with far-reaching views of Glastonbury Tor and up to Stembridge Mill at High Ham, the huts are easy to visit by footpaths or road, and there is disabled access.
The information displayed is of local history, from the Roman Villas at Low Ham and Pitney, King Alfred, the unique Church in the Field, the Battles of Langport and Sedgemoor, and various local people who have an interesting story. The main aim is to remind people of our local families affected by the two World Wars. The war memorials, Home Guard, and pictures of everyday life during the war.
The History Hut will be admission free to view, but there will be a donation box for the Royal British Legion. Spring 2018 there will be a Tea Room on site. The Hut will be available for hire for meetings, art/photography clubs, school visits or small social gatherings. Catering can be arranged for hot or cold refreshments.
Contact Karen Cook for further information 01458  250661 or kerrincook@hotmail.co.uk
EVENT NEWS
Remembrance Weekend 10th/11th November
The History Hut had lots of visitors over the Remembrance weekend including quite a few of the older generation - it was lovely to hear their stories. I had a display about Passchendale, as this battle ended 100years ago on November 10th. The interest in our local history is growing, and there are several little groups that are gathering information for us. Karen Cook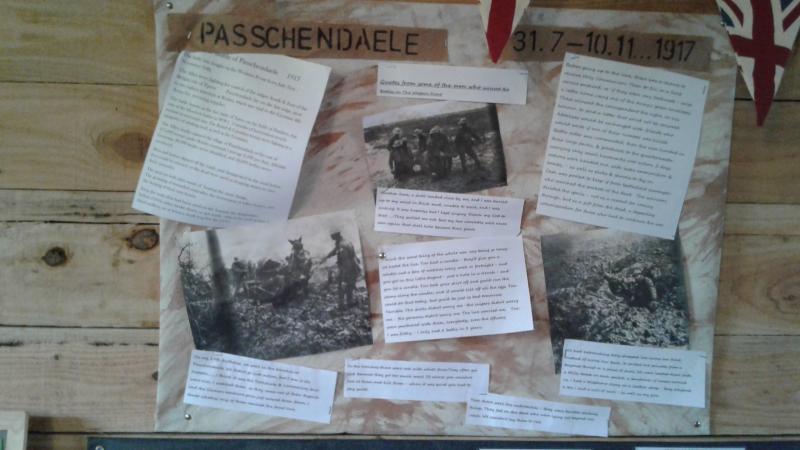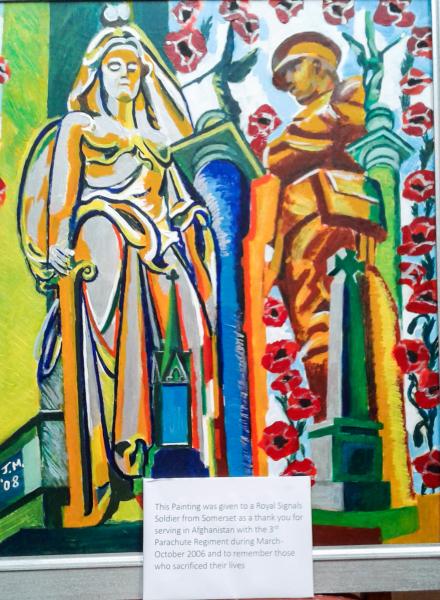 The painting was donated by Annette and Raymond Morris
History Hut Open Day 2nd-3rd September 2017
The History Hut had its first open weekend on the first weekend of September. there was a steady stream of visitors both days. tea/coffe and biscuits were free - donations were given in aid of The Royal British Legion, £167.20. On Saturday some people sat outside in the sun and enjoyed the view, but on Sunday the log burner was roaring away as it was cold and rainy!       Karen Cook